The construction of the new turf field at Somerset Elementary is currently underway. It has been a busy couple of days, and the following milestones have been reached: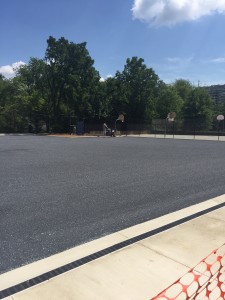 – Stone bed top dressed and ready for fabric;
– Fencing complete and field secure;
– Soft play areas top dressed and ready for use; and
– Limits of Disturbance stabilized and mulched.
The fabric delivery and installation is expected to start next week. If all goes smoothly over the next few weeks, the field should be ready for use when the kids return from the Labor Day holiday on September 6th.   Ground cover and tree planting will follow later during more optimal planting conditions in late October/early November.
For more information on the general construction process, you can visit the Fieldturf website:
http://www.fieldturf.com/en/artificial-turf/construction-and-installation
If you have questions or concerns, please feel free to email somersetfield2016@gmail.com. This email will be monitored by the Somerset Foundation and the PTA. We will answer questions as quickly as possible.